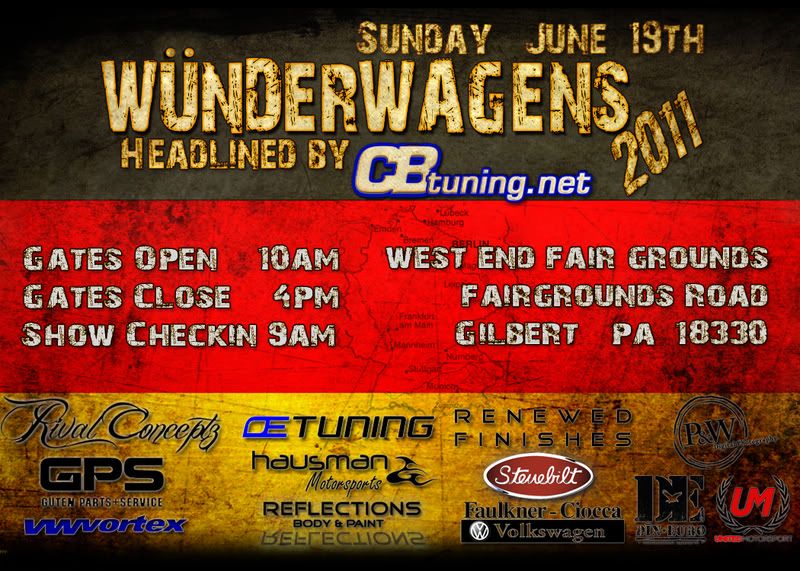 WunderWagens 2011 is bringing germany's finest automakers together in one place for all to enjoy.. german cars, good food, unique trophies, raffles and great vendors..
-event is being held at the West End Fairgrounds.. Fairgrounds rd. Gilbert, Pa 18330
-Gates open at 10am.. gates close at 4pm.. show check-in starts at 9am..
- $15 to register a car in the show.. $10 to spectate.. Swap meet space available for $25
- drug/alcohol free event
- No burnouts, wreckless driving, endangering others
- Website and pre-registration coming soon
- join our facebook event page!
Facebook-
http://www.facebook.com/event.php?eid=145480825517567
With over 300 in attendance already on the facebook page and many who do not have facebook.
At the moment there is a lot BMW so tell all of your friends who are other german fanatics to sign up!
If you have any questions here is the list of contacts
Pm me
Email:wunderwagens@yahoo.com
Jason (ME):610-seven six two-9661
Bransen:570-seven three zero-8856
Ross:570-three five zero-2044
Okay so lets start the list for this forum! I also have this up on basically every German car forum so if you can check on there for forming caravans or post up the caravan links on the facebook page. You can also pm me caravan links and Ill add them to the threads! Hope to see everyone out there!
1)jhstealth-widebody e46
2)
3)
4)
5)
6)
7)
9)
10)